Do you need to transport a SHIPPING CONTAINER? Are you located in Guelph, Toronto, Hamilton, Barrie, Kingston, Ottawa, or surrounding areas
Shipping Container Transport
Shipping Container Transport
Looking to transport a shipping container? Well look no further FLOATR has your back. and provides custom container shipping service at a fair price and with our specialized equipment. International and domestic container transport all over Ontario will be different according to the weight and cargo inside the shipping container. For over 5 years FLOATR has built a great reputation for providing exceptional freight transport service for companies around Ontario.
FLOATR INC. can move any container from 20′ to 40′ or 45′  anywhere across Ontario or GTA. In order to get an exact quote to transport your container we need to know. Our shipping container transport professionals will plan the most efficient route for your cargo and create a realistic schedule. We will provide all the permits that are needed and will follow industry standards to load and secure your shipping container for transport, to keep your investment safe during transit. Our experienced movers can deliver your container, on time and intact, to any location in the nation.
Get your free quote today! (519) 265-9740
The Basics of Shipping Container Transport
Before diving into the specifics, it's essential to grasp the fundamentals. Shipping container transport involves the movement of standardized containers, typically 20 or 40 feet in length, designed to fit seamlessly onto various modes of transportation, including ships, trucks, and trains. These containers have revolutionized global trade by simplifying loading, unloading, and the secure transportation of goods.
Types of Shipping Container Transport
Intermodal Transportation: The heart of container shipping is intermodal transportation, where containers move seamlessly between different modes – from ship to truck to rail. This method ensures a smooth and efficient journey for your cargo.

Local and National Transport: For shorter distances or within a single country, local and national transport solutions are ideal. Trucks with specialized equipment and trailers ensure your containers are delivered to their destination with ease.

International Shipping: When your cargo crosses international borders, international shipping services are crucial. This involves complying with customs regulations, documentation, and partnerships with global shipping lines.
Container Sizes and Types
Shipping containers come in various sizes and types, allowing for flexibility and customization:
20-foot Containers: Ideal for smaller cargo or when space is limited.
40-foot Containers: These are the most common and versatile containers, suitable for a wide range of goods.
Refrigerated Containers: For temperature-sensitive cargo such as food and pharmaceuticals.
Open-top Containers: Designed for oversized or awkwardly shaped cargo.
Flat Rack Containers: Suited for oversized cargo, machinery, and vehicles.
Special Considerations
When planning shipping container transport, several factors come into play:
Cargo Type: Different cargo requires various handling procedures and equipment.
Security: Ensure the security of your cargo with the right seals and tracking systems.
Customs and Documentation: International shipping involves extensive paperwork, including bills of lading and customs declarations.
Permits and Regulations: Oversized or hazardous cargo may require special permits and adherence to regulations.
Choosing the Right Shipping Container Transport Provider
Selecting the right transport provider is crucial. Look for a company with:
Experience: Seasoned companies understand the nuances of container transport.
Equipment: Ensure they have the right equipment to handle your cargo.
Safety Measures: Cargo safety is paramount, so inquire about their safety protocols.
Industries We Serve
Our shipping container transport services cater to various industries, including but not limited to:
Manufacturing: Transporting raw materials and finished products.
Construction: Moving equipment, machinery, and materials to job sites.
Retail and Distribution: Efficiently delivering goods to retail locations.
Agriculture: Transporting farming equipment and products.
Storage and Relocation: Relocating containers for storage or renovation.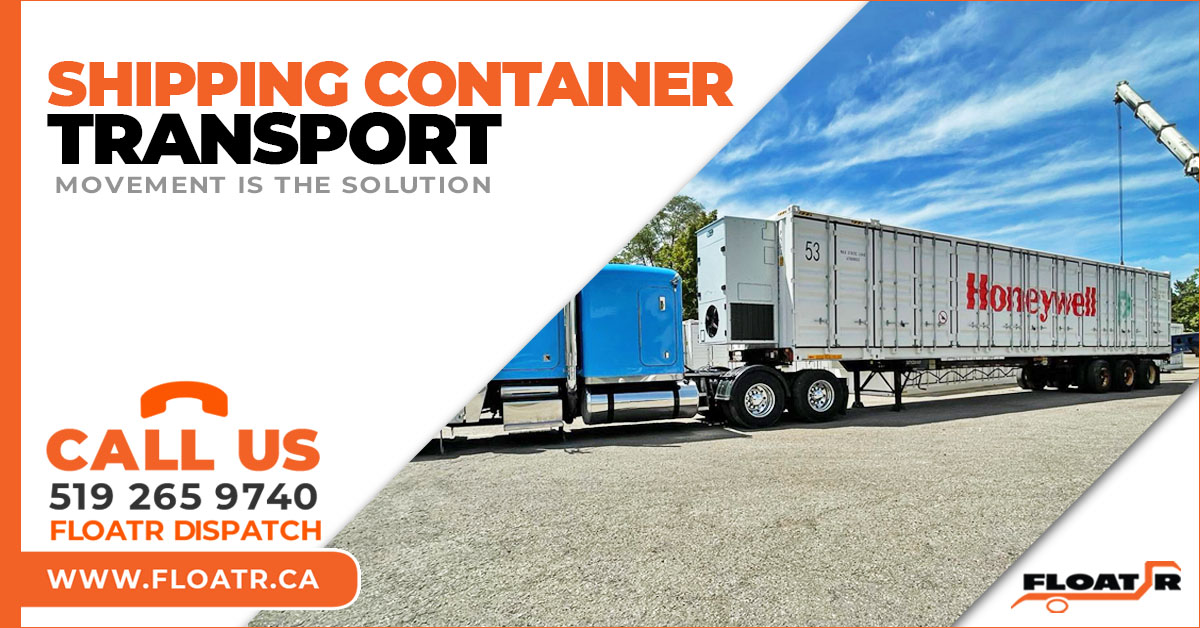 Your Shipping Container Transport Partner
At FLOATR INC., we take pride in being your trusted shipping container transport partner. Our commitment to efficient and secure container transport, along with our industry expertise, makes us the ideal choice for all your transport needs. Contact us today to discuss your shipping container transport project and experience seamless cargo movement.
Locations where FLOATR trucks will ship your load
FLOATR INC trucks are available every day in the following locations: Kitchener, Cambridge, Waterloo, Stratford, Woodstock, London, Brantford, Fergus, Elora, Elmira, Hamilton, Burlington, Stoney Creek, Ancaster, Georgetown, Milton, Oakville, Orangeville, Palmerston, St. Jacobs, New Hamburg, Halton Hills, Listowel, Oakville, Newmarket, Collingwood, Aurora, Oshawa, Ajax, Pickering, Bolton, Peterborough, Orillia, Belleville, Kingston, Ottawa, Brockville, New Tecumseth, Owen Sound, Walkerton, Kincardine, Goderich, Grand Bend, Sarnia, Windsor, Chatham, Tillsonburg, Simcoe, Port Colborne, Welland, St. Catharines, Grimsby, Niagara Falls, Caledonia, Hagersville, Paris, Ayr, Waterdown, Millbank, Wallenstein.
We make floating easy, so get a quote today by calling (519) 265 9740

Shipping Container to transport?
We are here to help.
At FLOATR INC industry-lead & professional flatbed transport, our goal is to provide our customers with the fast, reliable, consistent and quality service that they deserve, and to ensure that your driver gets your deliveries on time. That's why we're the best choice for your shipping container transport. We haul shipping container in the entire province of Ontario; therefore, we can haul your shipping container to your prefered location. To learn more about our flatbed freight haul services and how we can help you, just contact FLOATR industry-lead dispatch now.
Reserve your
Shipping Container Transport
Clients who trusted our service
thank you for being a valuable customer
Some of what our trucks can transport:
Storage Shed Movers

Heavy Haul Trucking

Lawn Movers Transport

Tiny House Transport

Industrial Equipment Hauling

Metal Sheet Transport

Military Equipment Transport

Concrete Block Transport
Storage Shed Movers

Mobile Office Shipping

Construction Equipment Hauling

Mining Equipment Transport

Heavy Machines Transport

Car Shipping
Compactor Transport

Water Tank Transport

Lumber Hauling

Small Excavator Transport

Railroad Equipment Transport

Manufacturing Equipment Transport

Crawler Carrier Transport

Pipe Transport

RV Transport
Stay informed were our transport truck will be tomorrow. This way you might get a better shipping rates
Copyright 2023 © All rights Reserved. Design by FLOATR
Shipping Container Transport