Do you need to transport a generator? Are you located in Guelph, Toronto, Hamilton, Barrie, Sudbury, Kingston, Ottawa, or surrounding areas
Generator Transport
Flatbed with ramp Hauling
Generator Transport
In an increasingly interconnected world, reliable access to electricity is more critical than ever. Standby generators, industrial generators, and power plants play a pivotal role in ensuring uninterrupted power supply to homes, businesses, and industries. But what happens when these generators need to be transported from one location to another? That's where FLOATR INC.'s Generator Transport service comes into play. In this blog post, we'll explore the essential role of generator transport and how FLOATR INC. is leading the way in providing safe, efficient, and dependable transportation for these vital power sources.
The Significance of a Generator Transportation services:
Generators are the backbone of our modern power infrastructure. They serve as a reliable source of electricity during outages, emergencies, and planned maintenance. However, moving these heavy, complex machines from one place to another is no small task. Generator transport is a specialized field that requires expertise, precision, and a deep understanding of the intricacies involved in handling generators of various types and sizes.
FLOATR INC.'s Generator Transport Expertise:
FLOATR INC. has emerged as a trusted partner in the realm of generator transport for several compelling reasons:
Experience and Knowledge: With a wealth of experience in the transportation industry, FLOATR INC. has honed its expertise in safely and securely transporting generators. From residential standby units to massive industrial generators, our team knows the ins and outs of generator transport.

Safety First: Safety is our top priority. We adhere to rigorous safety protocols to ensure that your generators, as well as the public and our team, remain safe during transit. Proper load securement, careful handling, and compliance with industry standards are non-negotiable.

Specialized Equipment: Our fleet includes specialized trailers and equipment designed to accommodate generators of various sizes and configurations. These trailers are equipped to provide stability and security during transportation.

Nationwide Coverage: Whether your generators need to be moved locally or across the country, FLOATR INC.'s generator transport services extend nationwide. We can get your generators where they need to go efficiently and reliably.
Custom Solutions for Your Generator Transport Needs:
FLOATR INC. understands that every generator transport is unique. Whether you're relocating a single standby generator or managing a complex industrial generator transportation project, we offer custom solutions tailored to your specific requirements. Our team works closely with you to ensure a seamless and hassle-free transport experience.
Conclusion:
Generator transport is a critical link in the chain of ensuring continuous access to electricity. With FLOATR INC.'s Generator Transport service, you can trust that your generators will reach their destination safely, efficiently, and on time. We take pride in powering your world by delivering the reliable transportation solutions your generators deserve.
For all your generator transport needs, contact FLOATR INC. today. Experience the peace of mind that comes with choosing a trusted partner dedicated to the safe and efficient transportation of your essential power sources.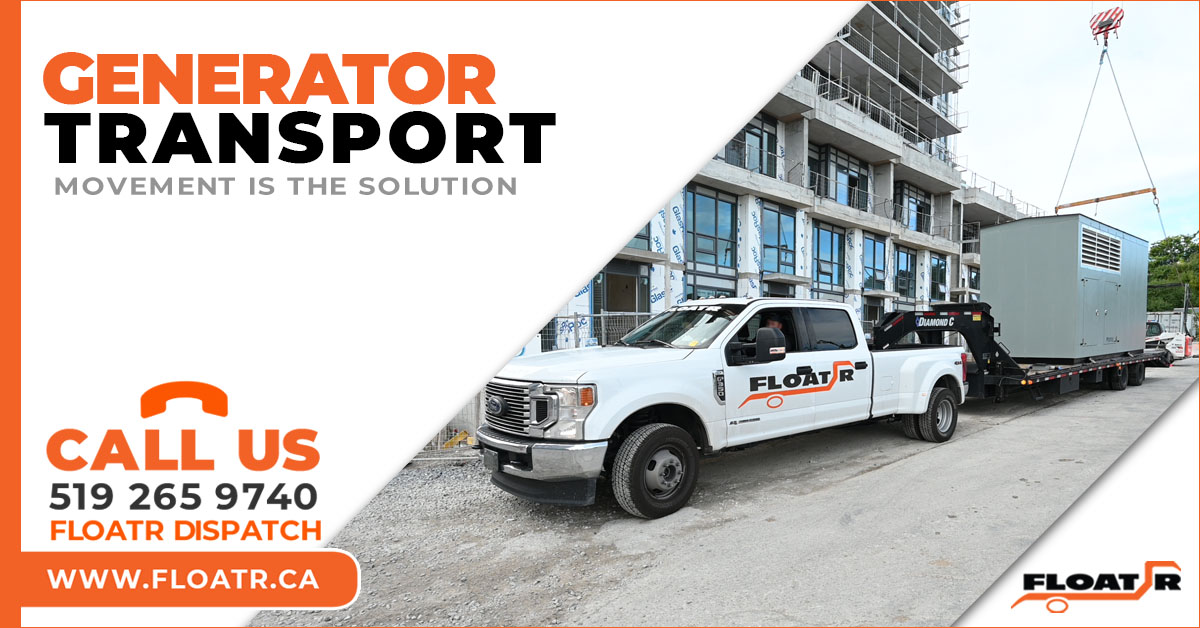 Locations where FLOATR trucks will ship your load
FLOATR INC trucks are available every day in the following locations: Kitchener, Cambridge, Waterloo, Stratford, Woodstock, London, Brantford, Fergus, Elora, Elmira, Hamilton, Burlington, Stoney Creek, Ancaster, Georgetown, Milton, Oakville, Orangeville, Palmerston, St. Jacobs, New Hamburg, Halton Hills, Listowel, Oakville, Newmarket, Collingwood, Aurora, Oshawa, Ajax, Pickering, Bolton, Peterborough, Orillia, Belleville, Kingston, Ottawa, Brockville, New Tecumseth, Owen Sound, Walkerton, Kincardine, Goderich, Grand Bend, Sarnia, Windsor, Chatham, Tillsonburg, Simcoe, Port Colborne, Welland, St. Catharines, Grimsby, Niagara Falls, Caledonia, Hagersville, Paris, Ayr, Waterdown, Millbank, Wallenstein.
We make floating easy, so get a quote today by calling (519) 265 9740

Generator to transport?
We are here to help.
Moving a generator  can be extremely difficult to handle on your own. So don't try to haul a generator on your own, and don't just trust any haul services specialist with your valuable construction oversize loads. To learn more about our freight haul services and how we can help you, just contact FLOATR industry-lead dispatch now.
Request a Quote Today
Don't leave the transportation of your generators to chance. Partner with FLOATR INC. and experience the peace of mind that comes with reliable and secure generator transport services.
Contact us today to request a quote or schedule your generator transport. Our dedicated team is ready to assist you with all your generator shipping needs. Trust FLOATR INC. for safe, efficient, and hassle-free generator transportation.
Clients who trusted our service
thank you for being a valuable customer
Some of what our trucks can transport:
Storage Shed Movers

Heavy Haul Trucking

Lawn Movers Transport

Tiny House Transport

Industrial Equipment Hauling

Metal Sheet Transport

Military Equipment Transport

Concrete Block Transport
Storage Shed Movers

Mobile Office Shipping

Mining Equipment Transport

Heavy Machines Transport

Car Shipping
Compactor Transport

Water Tank Transport

Lumber Hauling

Small Excavator Transport

Railroad Equipment Transport

Manufacturing Equipment Transport

Crawler Carrier Transport

Pipe Transport

RV Transport
Stay informed were our transport truck will be tomorrow. This way you might get a better shipping rates
Copyright 2023 © All rights Reserved. Design by FLOATR
Generator Transport