Do you need to transport a boom lifT? Are you located in Guelph, Toronto, Hamilton, Barrie, Kingston, Ottawa, or surrounding areas
Boom lift Transport
on Flatbed
Boom Lift Transport
Looking to transport a boom lift machine? FLOATR INC. has your back because provides custom boom lift shipping service at a fair price and with our specialized equipment and highly trained personnel. We deliver reliable boom lift transport services across Ontario. If you deal with us we will do all the work for you. The transport process will be made using our specialized flatbed trailers prepared for this kind of job in order to accomplish the task in the safest manner possible. For this reason, our dispatch team will prepare all the paperwork, permits, and insurance before the load is dispatched to the desired location Our extremely experienced drivers will move your boom lift to your desired location. For over 5 years FLOATR has built a great reputation for providing exceptional freight transport service.
FLOATR INC. shipped thousands of boom lifts so we know how to handle models from different manufacturers. With FLOATR INC, your boom lift is handled by professionals only. Before any boom lift is loaded on a trailer for transport, it's inspected and a BOL form is filled. We follow this process in order to document the equipment's condition before will be transported. After the machine will be delivered the BOL(bill of lading) form is used to confirm the condition of our load. When we load a boom lift onto a trailer our drivers will secure the machine according to Ontario security regulations.
Get your free quote today! (519) 265-9740; Cell: 226 820 3587 (24/7 Dispatcher)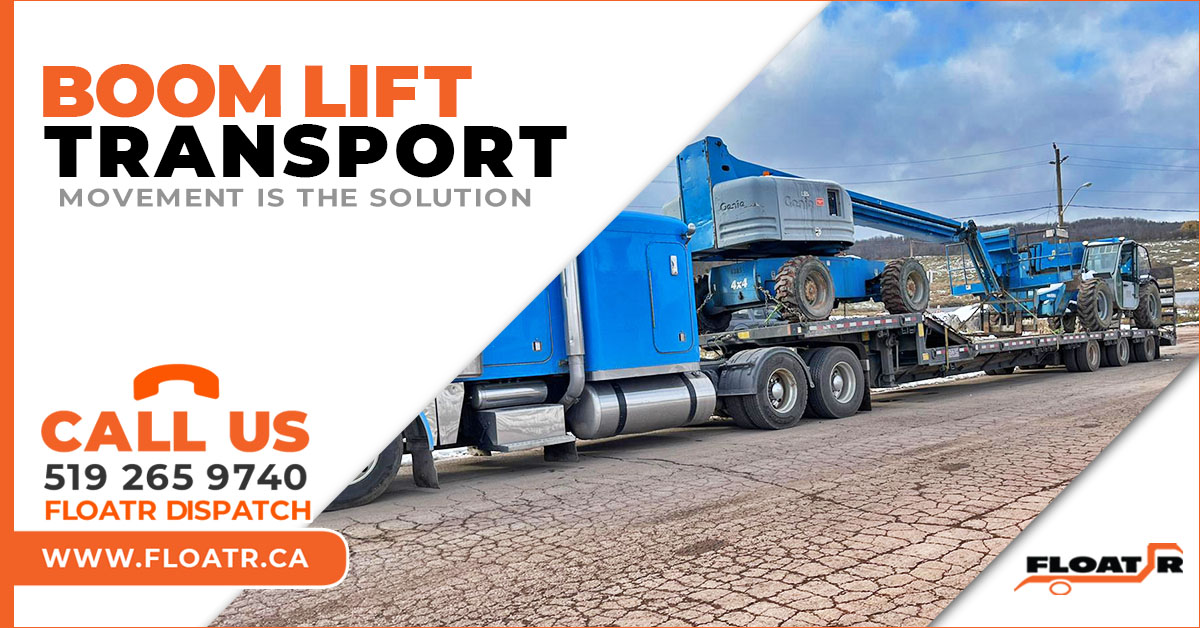 Locations where FLOATR trucks will ship your boom lift
FLOATR INC trucks are available every day in the following locations: Newmarket, Collingwood, Aurora, Oshawa, Ajax, Pickering, Bolton, Peterborough, Orillia, Belleville, Kingston, Ottawa, Brockville, New Tecumseth, Owen Sound, Walkerton, Kincardine, Goderich, Grand Bend, Sarnia, Windsor, Kitchener, Cambridge, Waterloo, Stratford, Woodstock, London, Brantford, Fergus, Elora, Elmira, Hamilton, Burlington, Stoney Creek, Ancaster, Georgetown, Milton, Oakville, Orangeville, Palmerston, St. Jacobs, New Hamburg, Halton Hills, Listowel, Oakville, Chatham, Tillsonburg, Simcoe, Port Colborne, Welland, St. Catharines, Grimsby, Niagara Falls, Caledonia, Hagersville, Paris, Ayr, Waterdown, Millbank, Wallenstein.
We make floating easy, so get a quote today by calling (519) 265 9740

Boom Lift to transport?
We are here to help.
At FLOATR INC industry-lead & professional flatbed transport, our goal is to provide our customers with the fast, reliable, consistent and quality service that they deserve, and to ensure that your driver gets your deliveries on time. That's why we're the best choice for your boom lift shipping. We transport boom lift in the entire province of Ontario; therefore, we can haul your boom lift to your prefered location. To learn more about our flatbed freight haul services and how we can help you, just contact FLOATR industry-lead dispatch now.
Reserve your
Boom Lift Transport
Clients who trusted our service
thank you for being a valuable customer
Some of what our trucks can transport:
Storage Shed Movers

Heavy Haul Trucking

Lawn Movers Transport

Tiny House Transport

Industrial Equipment Hauling

Metal Sheet Transport

Military Equipment Transport

Concrete Block Transport
Storage Shed Movers

Mobile Office Shipping

Mining Equipment Transport

Heavy Machines Transport

Car Shipping
Compactor Transport

Water Tank Transport

Lumber Hauling

Small Excavator Transport

Railroad Equipment Transport

Manufacturing Equipment Transport

Crawler Carrier Transport

Pipe Transport

RV Transport
Stay informed were our transport truck will be tomorrow. This way you might get a better shipping rates
Copyright 2023 © All rights Reserved. Design by FLOATR
Boom Lift Transport