Are you facing the challenge of moving a shipping container in Ontario? Whether you're dealing with oversized cargo, construction equipment, or specialized machinery, the process can seem daunting. Luckily, with the right knowledge and expert assistance, transporting shipping containers can be a seamless experience. In this blog post, we'll explore the ins and outs of moving a shipping container using flatbed transport and hot shot services in Ontario. Let's dive in!
Shipping Container Transport Steps
Assess Your Cargo
Before you begin the transportation process, it's essential to assess your cargo. Determine the dimensions, weight, and any special handling requirements for the shipping container. Knowing the specifics of your load will help you choose the right transport solution.
Choose the Right Transport Service
In Ontario, you have various transport options to move a shipping container, but two popular choices are flatbed transport and hot shot services:
Flatbed Transport: This versatile solution accommodates oversized and heavy cargo, making it an excellent choice for shipping containers. Flatbed trucks can handle various container sizes, and they are equipped with secure tie-downs to keep your cargo in place during transit.

Hot Shot Services: When time is of the essence, hot shot services offer expedited shipping. These services prioritize your container's delivery, ensuring that it reaches its destination quickly. Hot shot transport is ideal for urgent cargo.
Secure the Container
Properly securing the shipping container is paramount for a safe and successful transport. Ensure that the container is loaded and lashed down securely to prevent any shifting during transit. This step is critical to maintain the structural integrity of the container and protect other road users.
Obtain Necessary Permits
Depending on the size and weight of your shipping container, you may need permits for transportation in Ontario. Working with a reputable transport company like FLOATR INC. can help streamline this process, as they often handle permitting on behalf of their clients.
Partner with Experienced Professionals
To move a shipping container efficiently, it's essential to partner with experienced professionals who understand the nuances of cargo transportation in Ontario. FLOATR INC. offers a range of transport trucks and services, including flatbed transport and hot shot services. Their expertise ensures your cargo is in safe hands from pick-up to delivery.
Monitor and Track Your Cargo
Modern technology allows for real-time tracking and monitoring of your shipping container during transit. This added layer of security ensures you're always aware of your cargo's location and condition.
Unload Safely
Upon arrival at your destination, the unloading process should be carried out safely and efficiently. Working with experienced professionals ensures a smooth unloading process, preventing damage to your cargo and property.
With our professional team and dedication to efficient and secure container transport, you can trust FLOATR INC. to make your shipping container move a stress-free experience. Explore the comprehensive solutions we offer to meet your specific transport needs, and let us be your partner in successfully moving your shipping container in Ontario.
Ready to Move Your Shipping Container with Confidence? Contact FLOATR INC. Today!"
Moving a shipping container can be a complex process, but you don't have to go it alone. At FLOATR INC., we specialize in efficient and secure container transport. Our experienced team is here to make your move a stress-free experience. From flatbed transport to hot shot services, we've got the expertise and equipment to handle your specific needs.
Whether it's oversized cargo, machinery, or construction equipment, we have the solutions to ensure your cargo reaches its destination without a hitch. Trust FLOATR INC. for a smooth and efficient shipping container move in Ontario.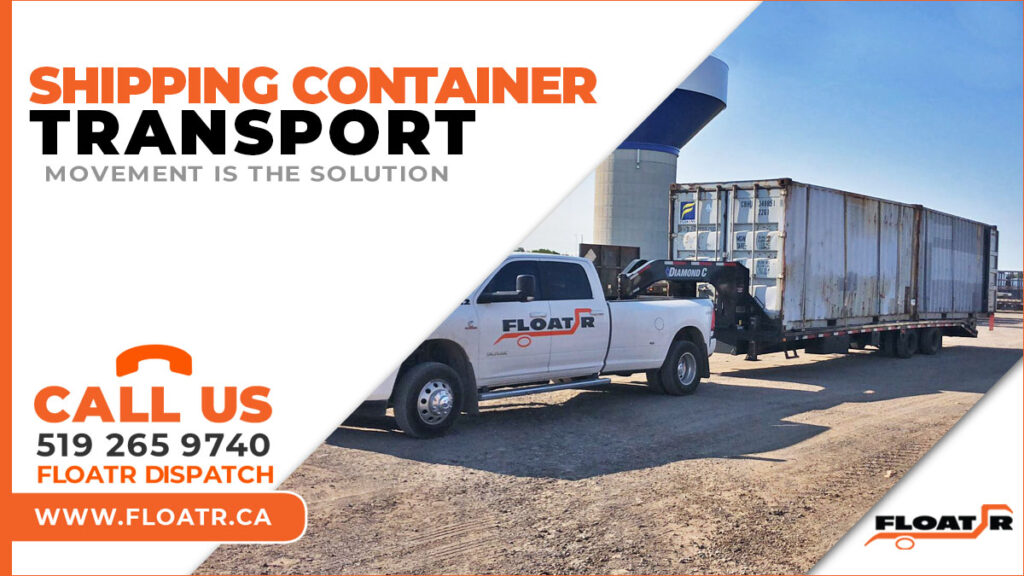 Feel free to complete the following form if you are looking for flatbed shipping
FLATBED SERVICES
In addition, just for everyone's interest, FLOATR INC trucks are available every day in the following locations: Kitchener, Cambridge, Waterloo, Stratford, Woodstock, London, Brantford, Fergus, Elora, Elmira, Hamilton, Burlington, Stoney Creek, Ancaster, Georgetown, Milton, Oakville, Orangeville, Palmerston, St. Jacobs, New Hamburg, Halton Hills, Listowel, Newmarket, Collingwood, Aurora, Oshawa, Ajax, Pickering, Bolton, Peterborough, Orillia, Belleville, Kingston, Ottawa, Brockville, New Tecumseth, Owen Sound, Walkerton, Kincardine, Goderich, Grand Bend, Sarnia, Windsor, Chatham, Tillsonburg, Simcoe, Port Colborne, Welland, St. Catharines, Grimsby, Niagara Falls, Caledonia, Hagersville, Paris, Ayr, Waterdown, Millbank, Wallenstein.