Transporting heavy machinery like excavators requires careful planning and the right equipment to ensure a safe and efficient journey. One of the critical decisions you'll need to make is choosing the right trailer for excavator transport. In this blog post, we'll explore the various types of trailers available and provide guidance on selecting the best one for your specific needs.
Right Trailer for Excavator transport
Before we delve into selecting the right trailer, let's take a look at the different types of trailers commonly used for excavator transport:
1. Flatbed Trailers
Flatbed trailers are a popular choice for transporting excavators. They have an open deck without walls or a roof, providing ample space to accommodate different sizes and types of excavators. These trailers are versatile and suitable for both short and long-distance transport.
2. Lowboy Trailers
Lowboy trailers, also known as low-bed or low-loader trailers, are designed for hauling heavy and oversized equipment, including excavators. They have a lower deck height, making it easier to load and unload tall excavators. Lowboy trailers are ideal for transporting large and heavy excavators over long distances.
3. Step Deck Trailers
Step deck trailers have a lower deck at the front and a higher deck at the back, resembling a staircase. They are suitable for transporting taller excavators that may not fit on a flatbed trailer. Step deck trailers provide the necessary clearance for the excavator's height.
4. Gooseneck Trailers
Gooseneck trailers feature a detachable front section that extends over the towing vehicle's rear axle. This design allows for a longer deck length and greater weight capacity, making them suitable for transporting larger excavators.
5. Extendable Trailers
Extendable trailers are adjustable in length, making them a versatile choice for various excavator sizes. They can be extended or retracted to accommodate different load lengths
Choosing the Right Trailer
Now that you're familiar with the different trailer types, here are some key considerations to help you choose the right one for your excavator transport:
1. Excavator Size and Weight
Determine the size and weight of your excavator. Ensure that the trailer you select has the appropriate load capacity and dimensions to accommodate your machine comfortably.
2. Distance of Transport
Consider the distance you'll be traveling. For long-distance transport, lowboy or gooseneck trailers may be more suitable due to their stability and load capacity.
3. Loading and Unloading
Evaluate how you plan to load and unload the excavator. Lowboy and step deck trailers provide lower deck heights, making it easier to load taller excavators.
4. Regulations and Permits
Check local regulations and permit requirements for transporting heavy equipment. Some trailers may require special permits for oversized loads.
5. Budget
Consider your budget constraints. While lowboy and gooseneck trailers offer excellent capabilities, they may come at a higher cost compared to flatbed or extendable trailers.
Selecting the right trailer for excavator transport is a crucial step in ensuring the safety and efficiency of the process. Assess your excavator's specifications, transport distance, and loading requirements to make an informed decision. By choosing the appropriate trailer, you'll not only protect your valuable equipment but also streamline the transportation process, saving time and resources.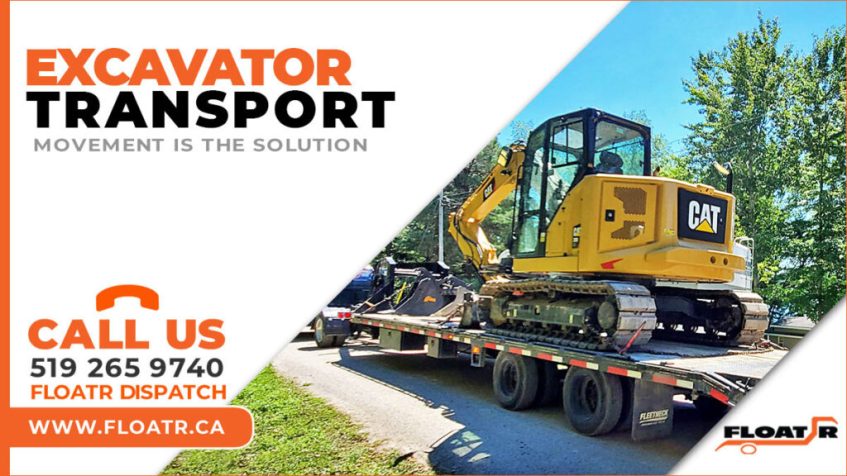 Feel free to complete the following form if you are looking for flatbed shipping
FLATBED SERVICES
In addition, just for everyone's interest, FLOATR INC trucks are available every day in the following locations: Kitchener, Cambridge, Waterloo, Stratford, Woodstock, London, Brantford, Fergus, Elora, Elmira, Hamilton, Burlington, Stoney Creek, Ancaster, Georgetown, Milton, Oakville, Orangeville, Palmerston, St. Jacobs, New Hamburg, Halton Hills, Listowel, Oakville, Newmarket, Collingwood, Aurora, Oshawa, Ajax, Pickering, Bolton, Peterborough, Orillia, Belleville, Kingston, Ottawa, Brockville, New Tecumseth, Owen Sound, Walkerton, Kincardine, Goderich, Grand Bend, Sarnia, Windsor, Chatham, Tillsonburg, Simcoe, Port Colborne, Welland, St. Catharines, Grimsby, Niagara Falls, Caledonia, Hagersville, Paris, Ayr, Waterdown, Millbank, Wallenstein.