In today's fast-paced world, the need for rapid, reliable, and efficient shipment solutions has never been more critical. Whether you're in the manufacturing sector, involved in construction, or managing specialized shipments, the ability to meet deadlines and deliver goods promptly can make all the difference. Enter hot shot trucking and hot shot transport – two specialized services designed to address your urgent shipment needs. In this blog post, we'll explore these services and their role in providing effective solutions for transporting construction machinery, oversized cargo, and more.
The Essence of Hot Shot Trucking
Hot shot trucking, often referred to as hot shot transport, is a dedicated service that caters to the fast-paced and urgent demands of various industries. It's all about speed, efficiency, and customized solutions, making it a go-to option for those who can't afford delays.
Serving Manufacturing Needs
In the manufacturing sector, where just-in-time production and on-time deliveries are paramount, hot shot services play a pivotal role. Whether you need to transport components, machinery, or specialized parts, hot shot trucking can ensure that your shipments reach their destination precisely when needed.
Construction Machinery on the Move
Construction sites are dynamic environments where downtime can be costly. When it comes to moving construction machinery, hot shot transport services come to the rescue. These services are well-equipped to handle the rapid transport of heavy machinery, ensuring that your construction projects stay on schedule.
A Solution for Specialized Shipments
Certain shipments fall into the category of specialized cargo that demands specialized solutions. Hot shot trucking is the answer, providing customized routes, equipment, and handling for a wide range of cargo, including sensitive or unique items.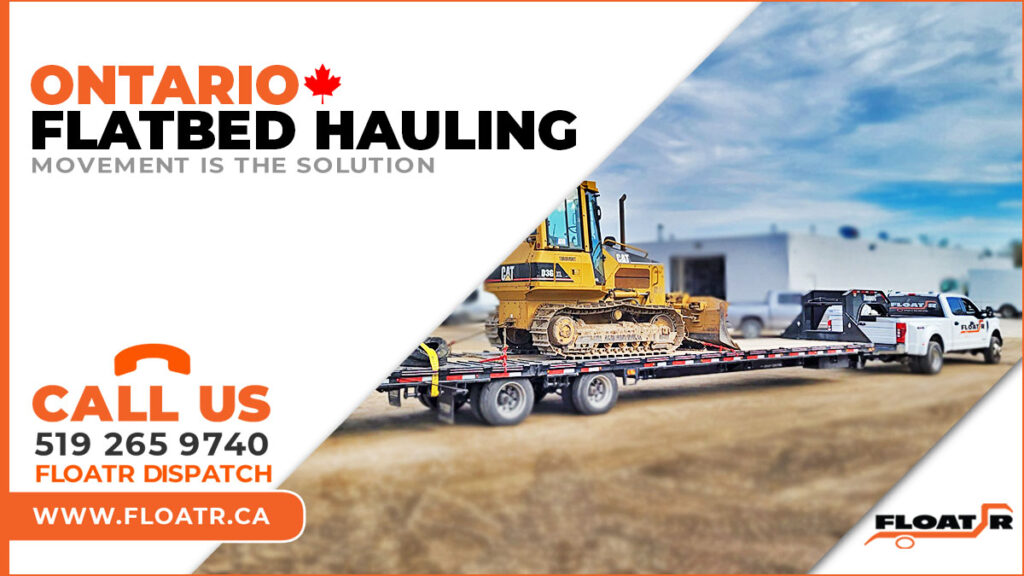 Handling Oversized Transport
When you need to transport oversized cargo, traditional shipping methods may not suffice. Hot shot services, often utilizing flatbed transport, offer the flexibility and capacity to handle large and heavy loads efficiently.
At FLOATR INC., we understand the urgency of your shipment needs, whether you're in manufacturing, construction, or require specialized transport. Our hot shot trucking and hot shot transport services are tailored to address your unique requirements, ensuring that your cargo arrives at its destination quickly and securely.
When you're faced with urgent shipment needs, you need a partner who can deliver on their promises. Trust FLOATR INC. to provide the expertise, equipment, and commitment required to meet your deadlines. Contact us today to explore how our hot shot services can benefit your business and streamline your shipping operations.
Feel free to complete the following form if you are looking for flatbed shipping
FLATBED SERVICES
In addition, just for everyone's interest, FLOATR INC trucks are available every day in the following locations: Kitchener, Cambridge, Waterloo, Stratford, Woodstock, London, Brantford, Fergus, Elora, Elmira, Hamilton, Burlington, Stoney Creek, Ancaster, Georgetown, Milton, Oakville, Orangeville, Palmerston, St. Jacobs, New Hamburg, Halton Hills, Listowel, Newmarket, Collingwood, Aurora, Oshawa, Ajax, Pickering, Bolton, Peterborough, Orillia, Belleville, Kingston, Ottawa, Brockville, New Tecumseth, Owen Sound, Walkerton, Kincardine, Goderich, Grand Bend, Sarnia, Windsor, Chatham, Tillsonburg, Simcoe, Port Colborne, Welland, St. Catharines, Grimsby, Niagara Falls, Caledonia, Hagersville, Paris, Ayr, Waterdown, Millbank, Wallenstein.