Skid steers are versatile workhorses in various industries, from construction to agriculture, thanks to their ability to handle an array of tasks with precision. However, ensuring that these heavy machines reach their intended destination safely and on schedule is a task that requires expertise and specialized equipment.
Our skid steer transport services are here to meet these unique demands. With years of experience and a commitment to excellence, we've become a trusted partner for those who rely on skid steers in their operations.
Why Choose Our Skid Steer Transport Services?
Expertise: Our team is well-versed in the nuances of transporting heavy equipment like skid steers. We understand the importance of secure loading, transit, and unloading to ensure the safety of your valuable equipment.

Specialized Equipment: Moving skid steers demands specialized trailers and equipment designed to handle heavy loads securely. We have the right tools and resources to safeguard your cargo during transportation.

Safety Protocols: Cargo safety is our top priority. We employ stringent safety measures and the latest securing techniques to protect your skid steer from any potential damage or harm during transit.

Timely Delivery: We understand the significance of timely delivery. Delays can disrupt your projects and operations, and we are dedicated to ensuring your skid steer arrives when you expect it.

Customized Solutions: Each skid steer transport project is unique. Whether you require door-to-door delivery, transportation between job sites, or specialized handling for delicate cargo, we provide personalized solutions to meet your specific needs.
Industries We Serve
Our skid steer transport services cater to a diverse range of industries, including but not limited to:
Construction: Transporting skid steers to construction sites is a common need, and our services are well-suited for the industry's demands.

Agriculture: Farmers depend on skid steers for a variety of tasks, and we ensure they are transported securely to agricultural sites.

Landscaping: Landscapers often need their skid steers transported between job locations, and we provide efficient solutions for this.

Rental Services: Companies that rent out skid steers require timely delivery and pick-up, and we are dedicated to meeting their scheduling needs.

Infrastructure Development: Projects involving roadwork, infrastructure development, and more frequently require the reliable transport of skid steers, and we have the expertise to handle these needs.
Your Trusted Partner for Skid Steer Transport
At [Your Company Name], we understand the critical role that skid steers play in various industries. We take pride in being your trusted partner for efficient and secure skid steer transport. Contact us today to discuss your specific transport project and experience the peace of mind that comes with knowing your skid steer is in capable hands.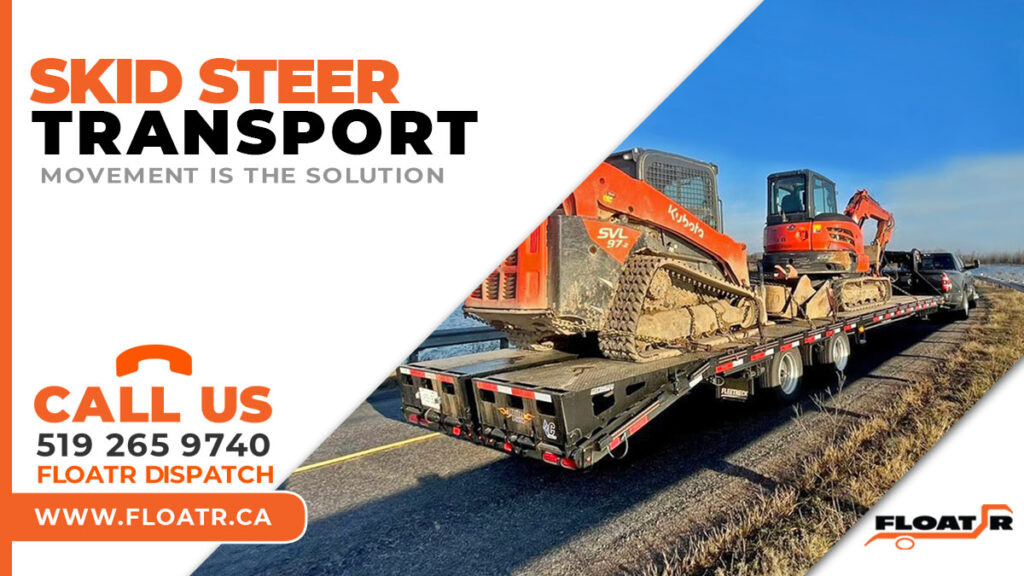 Feel free to complete the following form if you are looking for flatbed shipping
FLATBED SERVICES
In addition, just for everyone's interest, FLOATR INC trucks are available every day in the following locations: Kitchener, Cambridge, Waterloo, Stratford, Woodstock, London, Brantford, Fergus, Elora, Elmira, Hamilton, Burlington, Stoney Creek, Ancaster, Georgetown, Milton, Oakville, Orangeville, Palmerston, St. Jacobs, New Hamburg, Halton Hills, Listowel, Newmarket, Collingwood, Aurora, Oshawa, Ajax, Pickering, Bolton, Peterborough, Orillia, Belleville, Kingston, Ottawa, Brockville, New Tecumseth, Owen Sound, Walkerton, Kincardine, Goderich, Grand Bend, Sarnia, Windsor, Chatham, Tillsonburg, Simcoe, Port Colborne, Welland, St. Catharines, Grimsby, Niagara Falls, Caledonia, Hagersville, Paris, Ayr, Waterdown, Millbank, Wallenstein.