In the heart of Canada's industrial hub, Ontario, the mining industry thrives as a cornerstone of the province's economy. The extraction and processing of valuable resources like minerals and metals are essential for various sectors. However, the mining sector's success heavily relies on the efficient and safe transport of heavy-duty mining equipment. This is where FLOATR INC. and its flatbed transport services play a pivotal role. In this blog post, we will explore why FLOATR INC.'s flatbed transport services are indispensable for mining equipment transport in Ontario.
Heavy and Oversized Equipment
Mining operations in Ontario require a diverse range of heavy and oversized equipment, including excavators, bulldozers, drilling rigs, and more. These massive machines are essential for the extraction, transportation, and processing of minerals. Due to their size and weight, specialized transportation is a necessity.
FLOATR INC.'s flatbed transport services offer the perfect solution for moving these colossal mining machines. Their fleet of flatbed trucks is designed to handle the weight and dimensions of mining equipment, ensuring safe and secure transport.
Customized hauling Solutions for Mining Equipment Transport Service
Every piece of mining equipment is unique in its design and transportation requirements. FLOATR INC. understands this and provides customized transport solutions tailored to the specific needs of each piece of machinery. From securing equipment to the flatbed to choosing the right route, their experienced team ensures a smooth and efficient transport process.
Safety First
Safety is paramount when transporting heavy and valuable mining equipment. Any mishap during transportation can result in costly delays and equipment damage. FLOATR INC. places safety as a top priority in its flatbed transport services. Their skilled drivers are trained to handle even the most challenging transport scenarios, ensuring that your equipment arrives at its destination in pristine condition.
Versatility in Terrain
Ontario's mining sites can be located in remote and challenging terrains, from rugged landscapes to densely forested areas. FLOATR INC.'s flatbed transport services are equipped to handle these diverse terrains. Their drivers are experienced in navigating difficult roads and terrains, ensuring that your mining equipment reaches even the most remote locations.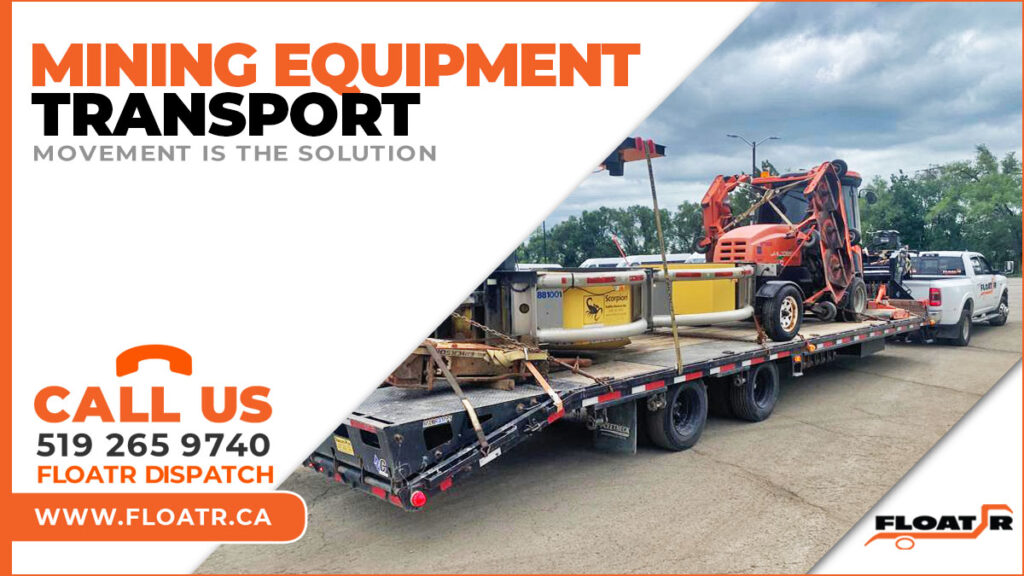 Conclusion
FLOATR INC.'s flatbed transport services have emerged as a lifeline for the mining industry in Ontario. Their commitment to safety, efficiency, and customized solutions ensures that mining equipment transport is not just a logistical process but a strategic advantage for mining companies across the province. As Ontario's mining industry continues to thrive, FLOATR INC. remains a trusted partner in facilitating the movement of heavy-duty equipment, contributing to the sector's growth and success.
Unlock Efficiency, Safety, and Success for Your Mining Operations with FLOATR INC.'s Premier Mining Equipment Transport Service!
Are you tired of delays, risks, and headaches associated with transporting your valuable mining equipment? FLOATR INC. is here to revolutionize your mining logistics with our top-notch Mining Equipment Transport Service.
🛡️ Secure Your Investment: Trust our experienced team to handle your heavy and oversized mining machinery with the utmost care and precision. We specialize in ensuring your equipment arrives at its destination in pristine condition.
Optimize Your Operations: Time is crucial in the mining industry, and we understand that. Our services are tailored for efficiency, ensuring your equipment reaches its destination on schedule, minimizing downtime, and maximizing productivity.
📞 Contact Us Today: Ready to elevate your mining operations? Take the first step toward seamless equipment transport. Contact FLOATR INC. now to discuss your specific needs and experience the difference with our Mining Equipment Transport Service.
Your success is our commitment. Let's make your mining logistics hassle-free and efficient. Reach out to FLOATR INC. today, and let's get your equipment moving towards success!
Feel free to complete the following form if you are looking for flatbed shipping
FLATBED SERVICES
In addition, just for everyone's interest, FLOATR INC trucks are available every day in the following locations: Kitchener, Cambridge, Waterloo, Stratford, Woodstock, London, Brantford, Fergus, Elora, Elmira, Hamilton, Burlington, Stoney Creek, Ancaster, Georgetown, Milton, Oakville, Orangeville, Palmerston, St. Jacobs, New Hamburg, Halton Hills, Listowel, Newmarket, Collingwood, Aurora, Oshawa, Ajax, Pickering, Bolton, Peterborough, Orillia, Belleville, Kingston, Ottawa, Brockville, New Tecumseth, Owen Sound, Walkerton, Kincardine, Goderich, Grand Bend, Sarnia, Windsor, Chatham, Tillsonburg, Simcoe, Port Colborne, Welland, St. Catharines, Grimsby, Niagara Falls, Caledonia, Hagersville, Paris, Ayr, Waterdown, Millbank, Wallenstein, Cochrane, Geraldton, Hearst, Kapuskasing,  Sudbury, Lively, Timmins, Thunder Bay, Chapleau, Sault St. Marie, Wawa, Elliot Lake,  North Bay, Temiskaming Shores, Temagami, Nipigon, White River, Ontario