A guide to safety measures and securement practices specific to Flatbed Trucking Services
In the first place,  Flatbed trucking is a critical component of the logistics industry, serving as the go-to choice for transporting oversized, heavy, and unconventional cargo. While the versatility of flatbeds makes them invaluable, it also presents unique challenges in terms of safety and cargo securement. In this blog post, we'll explore the best practices in flatbed trucking services, offering a comprehensive guide to prevent accidents and damage while ensuring the safe and efficient transport of your valuable cargo.
The Power of Flatbed Trucking Services
Secondly, Flatbed trucks are characterized by their open trailer beds with no sides or roof, allowing them to accommodate large and irregularly shaped cargo. This unique design makes them indispensable in industries where standard box trucks or enclosed trailers simply won't suffice. Whether you're hauling construction materials to a job site, transporting heavy machinery to a manufacturing facility, or moving oversized equipment across the country, flatbeds are up to the task.
Challenges of Flatbed Trucking Service
While flatbeds offer unparalleled versatility, they also present unique challenges. Securing and protecting cargo on an open bed requires careful planning, specialized equipment, and experienced professionals. Factors like load balancing, weather conditions, and cargo dimensions demand meticulous attention to detail.
Section 1: Safety First
Driver Training and Qualifications

---

Ensure that drivers are adequately trained and possess the necessary qualifications for operating flatbed trucks.
Provide ongoing safety training to keep drivers up to date with best practices and regulatory changes.
Vehicle Maintenance

---

Regularly inspect and maintain flatbed trucks to ensure they are in optimal condition.
Check tires, brakes, lights, and securement equipment before every trip.
Load Securement Education

---

Train drivers on proper load securement techniques, including the use of chains, straps, binders, and edge protectors.
Emphasize the importance of securing loads in accordance with federal and state regulations.
Section 2: Loading Techniques
Load Distribution

---

Distribute the cargo weight evenly across the trailer to prevent imbalances that could lead to accidents or damage.
Pay attention to axle weight limits and load centering.
Cargo Inspection

---

Conduct a thorough inspection of the cargo before loading to identify any potential hazards, loose items, or protrusions.
Ensure that cargo is adequately prepared, including securing loose parts and covering sensitive surfaces.
Loading Sequence

---

Follow a loading sequence that places heavier items at the bottom and lighter items on top.
Use dunnage (wooden blocks or beams) to create a stable base for the cargo.
Section 3: Cargo Securement Practices
Proper Equipment Selection

---

Choose the appropriate securement equipment based on the type, size, and weight of the cargo.
Ensure that all equipment used is in good condition and meets regulatory standards.
Tension and Tightening

---

Apply proper tension to chains and straps to secure the cargo without over-tightening, which can cause damage.
Use appropriate tools such as binders and winches for tensioning.
Edge Protection

---

Use edge protectors to prevent straps and chains from cutting into the cargo.
Secure edge protectors at potential contact points.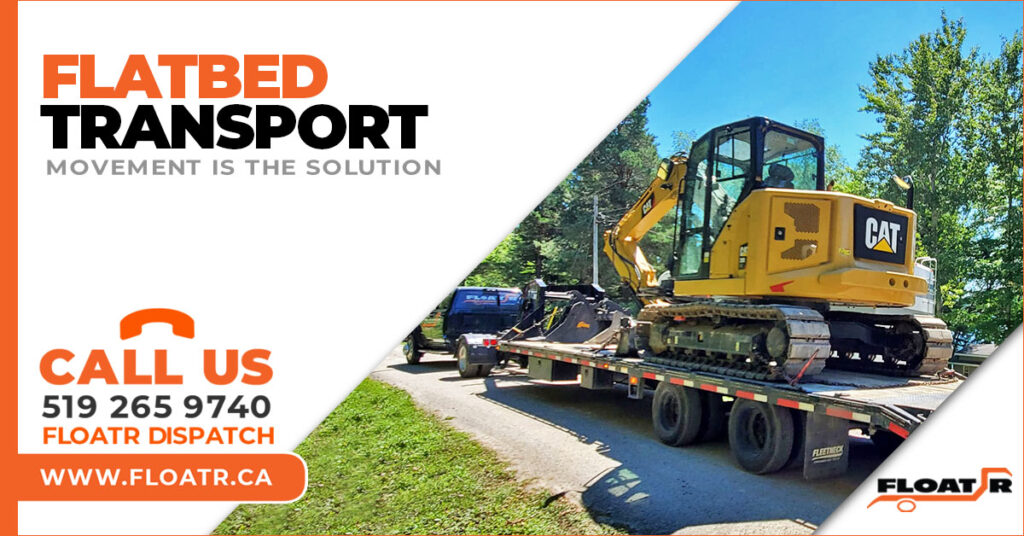 Conclusion
Our trucking services are indispensable for the transportation of oversized and unconventional cargo, but they come with unique safety challenges. By following best practices in driver training, vehicle maintenance, loading techniques, and cargo securement, you can mitigate risks and ensure the safe transport of your valuable goods.
At FLOATR INC., we understand the importance of adhering to these best practices, and our experienced team is dedicated to implementing them on every flatbed transport project. Safety, reliability, and cargo protection are at the core of our services, making us your trusted partner in flatbed trucking.
By embracing these best practices, you not only enhance safety but also contribute to the efficiency and success of your transport operations. Remember, in flatbed trucking, safety and securement go hand in hand, ensuring that your cargo arrives at its destination intact and on time.
Feel free to complete the following form if you are looking for flatbed shipping
We deliver frequently at the following locations
In addition, just for everyone's interest, FLOATR INC trucks are available every day in the following locations: Kitchener, Cambridge, Waterloo, Stratford, Woodstock, London, Brantford, Fergus, Elora, Elmira, Hamilton, Burlington, Stoney Creek, Ancaster, Georgetown, Milton, Oakville, Orangeville, Palmerston, St. Jacobs, New Hamburg, Halton Hills, Listowel, Newmarket, Collingwood, Aurora, Oshawa, Ajax, Pickering, Bolton, Peterborough, Orillia, Belleville, Kingston, Ottawa, Brockville, New Tecumseth, Owen Sound, Walkerton, Kincardine, Goderich, Grand Bend, Sarnia, Windsor, Chatham, Tillsonburg, Simcoe, Port Colborne, Welland, St. Catharines, Grimsby, Niagara Falls, Caledonia, Hagersville, Paris, Ayr, Waterdown, Millbank, Wallenstein.