Do you need to rent a GOOSENECK trailer? Are you located in Guelph, Elmira, Kitchener,waterloo,elora, fergus, or surrounding areas
Flatbed trailer Rental
Guelph, Ontario

Gooseneck Trailer Rental
That's right, we now offer a Flatbed trailer rental service for our customers. You can now for a fair price take one of our specialized Gooseneck Flatbed Trailers and confidently get what you need to where it needs to go.
Flatbed Trailers to serve your needs anytime during the week and on weekends
Renting a flatbed trailer is the ideal solution if you're experiencing unexpected extra demand, need to prepare for a seasonal rise in volumes or one of your vehicles is off the road. Unexpected market conditions can quickly change a company's vehicle requirements and renting provides an ideal solution. As your rental partner, we provide an award-winning service.
We can support you with short and long-term rental and we provide a truly consultative partnership approach, with dedicated account management and customer service that's second-to-none. We're able to provide a spot rental service with competitive rates; providing the right commercial vehicles to suit your individual business requirements, whether you're a large corporate business or a single-vehicle operator.
The Benefits
Speed. Renting provides you with the vehicle you need quickly and with minimal financial outlay.
Fixed costs. Knowing how much your spot hire is going to cost from the outset provides reassurance and enables you to plan better.
Flexibility. The ability to flex is key to running a modern fleet. Renting allows you to cope with a temporary increase in demand, without overworking your existing fleet.
No ownership issues. No need to worry about depreciation or the hassle of selling the vehicle after you've finished with it.
Safety and compliance. All covered and managed
HST. If you rent a vehicle solely for business use, you can claim back 100% of the HST.
A complete package. Renting includes the rental service, maintenance, MOT, servicing, road fund license, and a replacement vehicle.
Administration. All taken care of, saving you time and money and allowing you to get on with satisfying your customers' needs.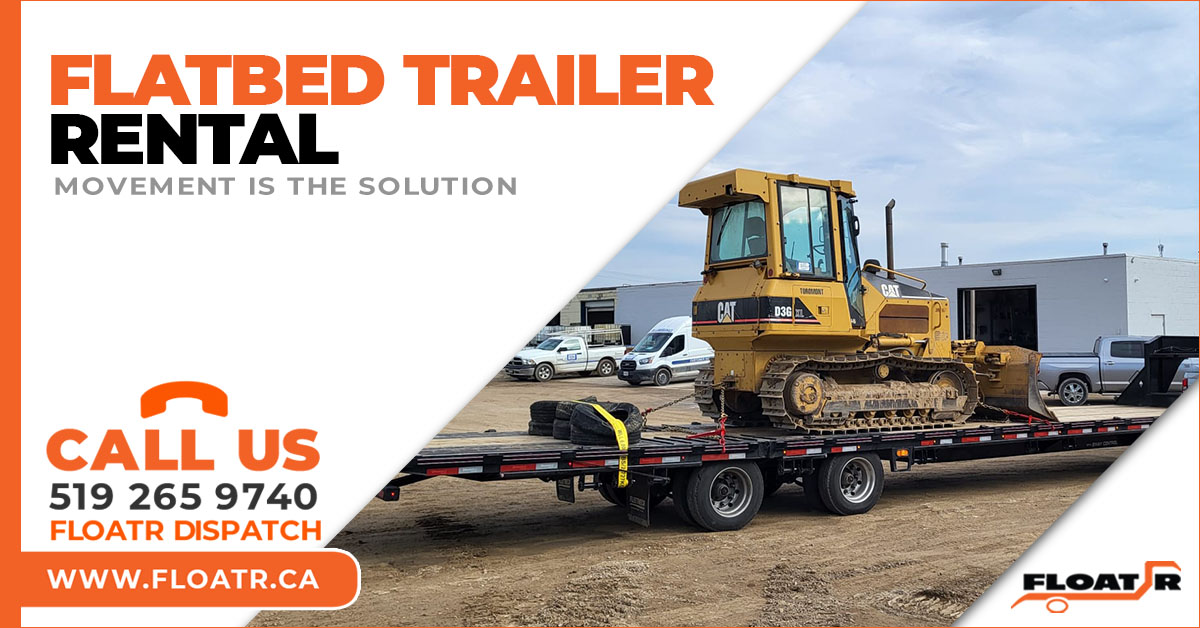 Gooseneck Trailer Rental Important Information.
According to the information provided by you we reserve the right to refuse possible rentals. The following issues will result in the complete or partial loss of your damage deposit.
Jack bent or dragged
Safety chains dragged on the road
The electrical cord is destroyed, pinched, or defective
Scratches, dents
Excessive mud on the trailer (We aspect to receive the trailer as it was picked up)
The trailer traveled out of province without our knowledge
The trailer traveled on toll roads. (In this case, you will have to support the tool road invoice)
In addition, just for everyone's interest, FLOATR INC trucks are available every day in the following locations: Kitchener, Cambridge, Waterloo, Stratford, Woodstock, London, Brantford, Fergus, Elora, Elmira, Hamilton, Burlington, Stoney Creek, Ancaster, Georgetown, Milton, Oakville, Orangeville, Palmerston, St. Jacobs, New Hamburg, Halton Hills, Listowel, Oakville, Newmarket, Collingwood, Aurora, Oshawa, Ajax, Pickering, Bolton, Peterborough, Orillia, Belleville, Kingston, Ottawa, Brockville, New Tecumseth, Owen Sound, Walkerton, Kincardine, Goderich, Grand Bend, Sarnia, Windsor, Chatham, Tillsonburg, Simcoe, Port Colborne, Welland, St. Catharines, Grimsby, Niagara Falls, Caledonia, Hagersville, Paris, Ayr, Waterdown, Millbank, Wallenstein.

Call now: +1 (519) 265 9740 to speak with our dispatch-excavator transport expert.
Please fill out the following form in order to receive a formal quote
Clients who trusted our service
thank you for being a valuable customer
Some of what our trucks can transport:
Storage Shed Movers

Heavy Haul Trucking

Heavy Machinery Transport

Lawn Mower Transport

Tiny House Transport

Industrial Equipment Hauling

Metal Sheet Transport

Military Equipment Transport

Concrete Block Transport

Farm Equipment Transport
Shipping Container Transport
Storage Shed Movers

Mobile Office Shipping

Construction Equipment Hauling

Mining Equipment Transport

Heavy Machines Transport

Car Shipping

Forestry Equipment Transport

Scaffolding Transport

Barges Transport
Crawler Carrier Transport
Compactor Transport

Sky Jack Boom Lift Transport

Scissor Lift Transport

Generator Transport

Airplane/Fuselage Transport

Water Thank Transport

Lumber Hauling

Small Excavator Transport

Railroad Equipment Transport

Manufacturing Equipment Transport

Crawler Carrier Transport

Pipe Transport

RV Transport
Stay informed were our transport truck will be tomorrow. This way you might get a better shipping rates
Copyright 2023 © All rights Reserved. Design by FLOATR
Flatbed Rental