In today's fast-paced and interconnected world, the role of trucking companies goes far beyond simply transporting goods from one place to another. These companies form the backbone of our economy, ensuring the efficient movement of products across vast distances. From the groceries on your store shelves to the latest gadgets delivered to your doorstep, trucking companies play a pivotal role in keeping the wheels of commerce turning.
The Engine of Economic Growth
Trucking companies serve as the engine of economic growth, facilitating the exchange of goods on a global scale. With the rise of e-commerce and the demand for swift deliveries, the importance of these companies has only grown over time. Companies like FLOATR INC. have recognized the need for seamless transportation and have tailored their services to meet the modern customer's demands.
Seamless Supply Chain Management
At the heart of every successful business lies a well-oiled supply chain, and trucking companies are a crucial link in this chain. They ensure that raw materials reach factories, finished products reach distribution centers, and goods finally make their way into the hands of consumers. This process demands meticulous planning and execution, where even a minor delay can have far-reaching consequences. Specialized carriers, such as those provided by FLOATR INC., are designed to handle diverse cargo with efficiency.
Regional and Global Reach
Trucking companies provide a vital link between local producers and global markets. Whether it's the transportation of agricultural produce from rural areas to urban centers or the delivery of imported goods to local retailers, these companies bridge geographical gaps. This intricate network enables businesses of all sizes to access a broader customer base, thereby driving economic development.
Job Creation and Employment
The trucking industry is a significant source of employment, offering a wide range of job opportunities. From truck drivers and mechanics to logistics coordinators and administrators, the sector provides livelihoods to millions. This workforce ensures that goods are on the move around the clock, contributing to the steady flow of goods essential for a thriving economy.
Technological Advancements
Innovation has transformed the trucking industry, enhancing efficiency, safety, and sustainability. Advanced GPS systems optimize routes, reducing fuel consumption and minimizing the environmental footprint. Telematics solutions allow for real-time tracking of shipments, ensuring transparency and security throughout the journey. As technology continues to evolve, companies like FLOATR INC leverage cutting-edge tools to provide reliable and data-driven services.
While trucking companies offer immense benefits, they also face challenges such as fluctuating fuel costs, regulatory changes, and infrastructure limitations. Rising to these challenges requires adaptability and strategic planning. Companies like FLOATR INC. excel in navigating these complexities, offering insights into overcoming obstacles and finding opportunities within them.
Trucking companies play a pivotal role in maintaining the delicate balance of our modern economy. Their significance extends beyond the mere movement of goods; they enable businesses to thrive, consumers to access a diverse range of products, and economies to grow. From regional connectivity to global outreach, these companies, exemplified by innovators like FLOATR INC., continue to shape the way we do business and drive progress in our interconnected world. So, the next time you receive a package at your doorstep or stock your kitchen shelves, remember that it's the dedicated work of trucking companies that keeps our world moving forward.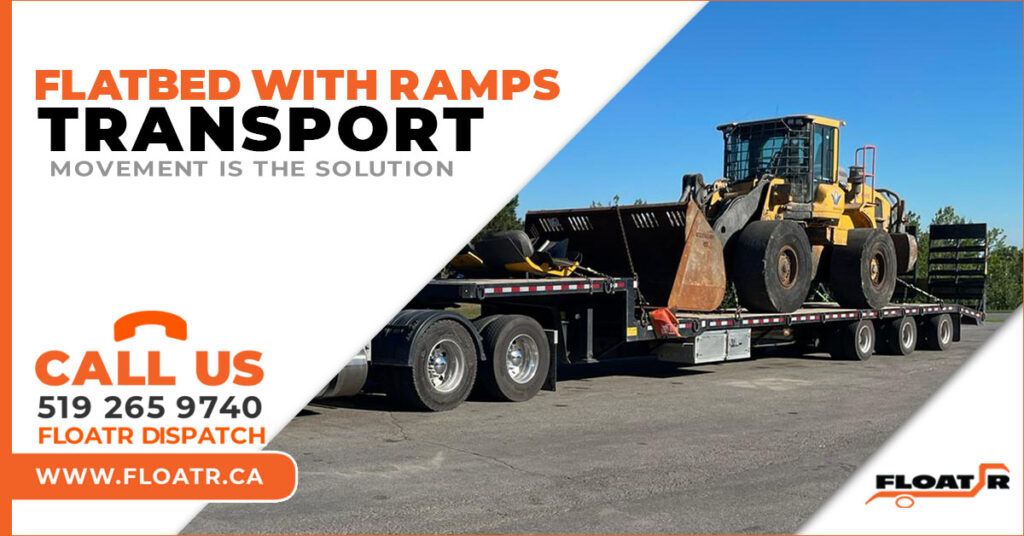 Feel free to complete the following form if you are looking for flatbed shipping
FLATBED SERVICES
In addition, just for everyone's interest, FLOATR INC trucks are available every day in the following locations: Kitchener, Cambridge, Waterloo, Stratford, Woodstock, London, Brantford, Fergus, Elora, Elmira, Hamilton, Burlington, Stoney Creek, Ancaster, Georgetown, Milton, Oakville, Orangeville, Palmerston, St. Jacobs, New Hamburg, Halton Hills, Listowel, Oakville, Newmarket, Collingwood, Aurora, Oshawa, Ajax, Pickering, Bolton, Peterborough, Orillia, Belleville, Kingston, Ottawa, Brockville, New Tecumseth, Owen Sound, Walkerton, Kincardine, Goderich, Grand Bend, Sarnia, Windsor, Chatham, Tillsonburg, Simcoe, Port Colborne, Welland, St. Catharines, Grimsby, Niagara Falls, Caledonia, Hagersville, Paris, Ayr, Waterdown, Millbank, Wallenstein.