Transporting tubing comes with its own set of challenges due to its size, shape, and potential vulnerability. Proper securement is essential to ensure the safety of the cargo, the transportation team, and other road users. Here's a comprehensive guide on how to effectively secure tubing during transportation:
1. Choose the Right Trailer:
Select a trailer that is specifically designed for transporting tubing. Flatbed trailers, step deck trailers, or specialized tubing carriers are commonly used for this purpose.
2. Plan Securement Strategy
Create a detailed plan for securing the tubing before loading. Consider factors such as the tubing's length, weight, and material. Devise a strategy that ensures even weight distribution and prevents shifting during transit.
3. Use Appropriate Tie-Downs:
Utilize high-quality chains, straps, and tensioners that are suitable for the weight and dimensions of the tubing. The tie-downs should have the required strength and load capacity to withstand any forces experienced during transportation.
4. Distribute Weight Evenly:
Position the tubing on the trailer in a way that ensures even weight distribution. Heavier portions should be placed closer to the trailer's axles to maintain balance.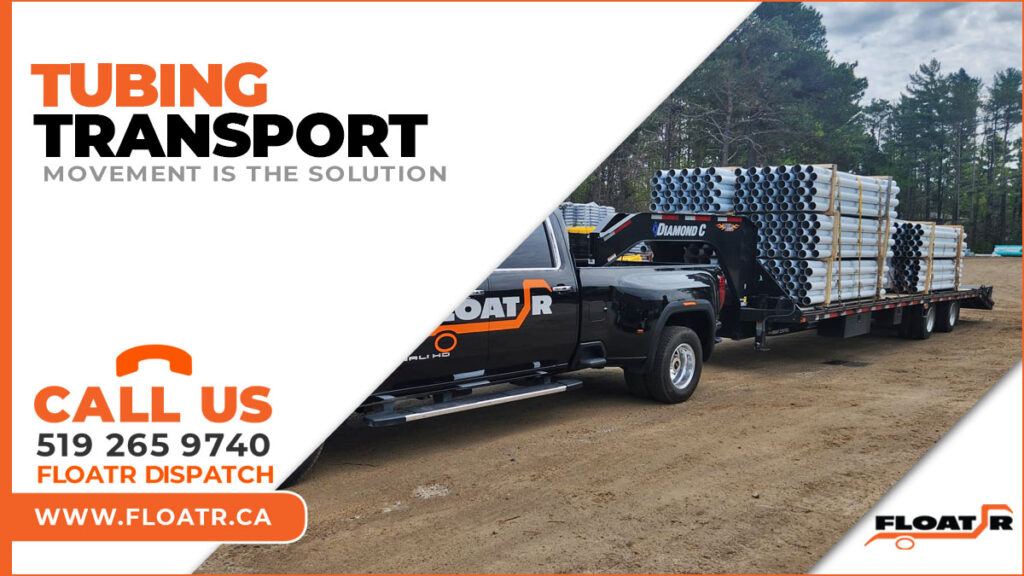 5. Protect Vulnerable Parts:
6. Secure Anchor Points: Use strong anchor points on the trailer for attaching tie-downs. These anchor points should be capable of withstanding the forces exerted by the tie-downs during transit.
7. Adequate Overlapping: If you're transporting multiple pieces of tubing, ensure that they overlap slightly. This prevents the tubing from rolling or shifting during transport.
8. Prevent Movement: Stabilize the tubing to prevent any movement during transit. Use blocking or chocks to immobilize the tubing and prevent it from rolling or sliding.
9. Regular Inspections: Perform thorough inspections of the securement setup before and during transit stops. Check for any signs of loosening or shifting and make necessary adjustments.
10. Compliance with Regulations: Adhere to legal regulations and industry standards for load securement. Different regions may have specific requirements for securing oversized loads, so ensure compliance to avoid penalties.
11. Weather Considerations: Factor in weather conditions during the transportation process. Secure the tubing more tightly in windy conditions to prevent it from swaying.
12. Professional Expertise: Consider hiring professional transportation services experienced in handling tubing securement. Their expertise ensures that the tubing is properly secured and protected throughout the journey.
Remember, Safety First: Ensuring securement isn't just about protecting the tubing; it's about maintaining road safety for everyone. Properly secured loads prevent accidents and contribute to a safer transportation environment.
By following these securement guidelines, you can confidently transport tubing without compromising its integrity or the safety of the transportation team and fellow road users. Proper securement not only prevents damage and accidents but also ensures that your valuable tubing reaches its destination in the best possible condition.
Feel free to complete the following form if you are looking for flatbed shipping
FLATBED SERVICES
In addition, just for everyone's interest, FLOATR INC trucks are available every day in the following locations: Kitchener, Cambridge, Waterloo, Stratford, Woodstock, London, Brantford, Fergus, Elora, Elmira, Hamilton, Burlington, Stoney Creek, Ancaster, Georgetown, Milton, Oakville, Orangeville, Palmerston, St. Jacobs, New Hamburg, Halton Hills, Listowel, Oakville, Newmarket, Collingwood, Aurora, Oshawa, Ajax, Pickering, Bolton, Peterborough, Orillia, Belleville, Kingston, Ottawa, Brockville, New Tecumseth, Owen Sound, Walkerton, Kincardine, Goderich, Grand Bend, Sarnia, Windsor, Chatham, Tillsonburg, Simcoe, Port Colborne, Welland, St. Catharines, Grimsby, Niagara Falls, Caledonia, Hagersville, Paris, Ayr, Waterdown, Millbank, Wallenstein.