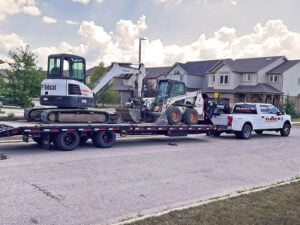 Skid Steer Transport Barrie, Sudbury, Timmins, Ottawa.
Skid steers are versatile workhorses in various industries, from construction to agriculture, thanks to their ability to handle an array of tasks with precision. However, ensuring that these heavy machines reach their intended destination safely and on schedule is a task that requires expertise and specialized equipment.
Our skid steer transport services are here to meet these unique demands. With years of experience and a commitment to excellence, we've become a trusted partner for those who rely on skid steers in their operations.
Skid Steer Transport