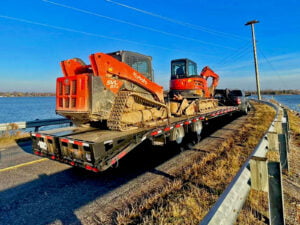 Why Choose Our Skid Steer Transport Services?
Expertise: Our team is well-versed in the nuances of transporting heavy equipment like skid steers. We understand the importance of secure loading, transit, and unloading to ensure the safety of your valuable equipment.
Specialized Equipment: Moving skid steers demands specialized trailers and equipment designed to handle heavy loads securely. We have the right tools and resources to safeguard your cargo during transportation.
Safety Protocols: Cargo safety is our top priority. We employ stringent safety measures and the latest securing techniques to protect your skid steer from any potential damage or harm during transit.
Timely Delivery: We understand the significance of timely delivery. Delays can disrupt your projects and operations, and we are dedicated to ensuring your skid steer arrives when you expect it.
Customized Solutions: Each skid steer transport project is unique. Whether you require door-to-door delivery, transportation between job sites, or specialized handling for delicate cargo, we provide personalized solutions to meet your specific needs.
Skid Steer Transport