In the dynamic landscape of freight transport services, Floatr Inc. emerges as a beacon of excellence, offering a myriad of benefits that redefine the shipping experience. Let's delve into the active advantages that set Floatr Inc.'s Freight Transport Services apart, ensuring your cargo journey is not just secure but seamlessly efficient.
Floatr Freight Transport has Reliability at Every Turn
Floatr Inc. takes pride in unwavering reliability. Our commitment is powered by cutting-edge technology and a meticulously maintained fleet, ensuring that your cargo not only reaches its destination securely but does so promptly. Whether standard freight or oversized cargo, our services adapt to meet the unique demands of each shipment, providing a personalized experience tailored to your needs.
Click here to explore the technology ensuring your cargo's safety and prompt delivery.
State-of-the-Art Fleet Technology
Our fleet stands as a testament to excellence. Equipped with the latest technology, including advanced tracking systems and climate-controlled options, Floatr Inc.'s vehicles guarantee the secure transport of your goods. With real-time monitoring, your cargo is always in safe hands.
Explore the technology powering our fleet here.
Efficient Transit Planning for Swift Delivery
Time is of the essence in logistics, and at Floatr Inc., we understand that well. Our transit times are optimized through efficient route planning, ensuring your cargo reaches its destination swiftly without compromising safety or quality. Discover how our transit planning sets us apart.
Learn more about our transit planning here.
Cost-Effective Excellence
Floatr Inc. firmly believes that quality freight transport services need not come with an exorbitant price tag. Our transparent pricing model ensures you receive value for your investment, with no hidden fees or surprises. Explore our competitive prices and experience cost-effective excellence.
Compliance and Safety Assurance
Navigating the complex web of regulations and safety standards is a top priority at Floatr Inc. Our Freight Transport Services adhere to all industry regulations, ensuring your cargo is transported legally, safely, and without complications. Learn more about our commitment to compliance.
Understand our commitment to compliance here.
Eco-Conscious Initiatives for a Sustainable Future
Sustainability is at the forefront of Floatr Inc.'s ethos. Our freight transport services incorporate eco-friendly practices, from fuel-efficient vehicles to initiatives aimed at reducing emissions, contributing to a more sustainable future. Explore our eco-conscious initiatives.
Customer-Centric Approach
At Floatr Inc., customer service is more than just a phrase; it's a commitment. Our committed team guarantees a smooth shipping experience from beginning to end. We prioritize open communication and flexibility to meet your unique needs. Discover the Floatr Inc. customer service difference.
Conclusion:
Choosing Floatr Inc. means choosing a partner dedicated to optimizing your shipping experience. With a focus on reliability, efficiency, and sustainability, Floatr Inc.'s Freight Transport Services redefines industry standards. Elevate your logistics with Floatr Inc. – where exceptional service meets innovative freight transport solutions.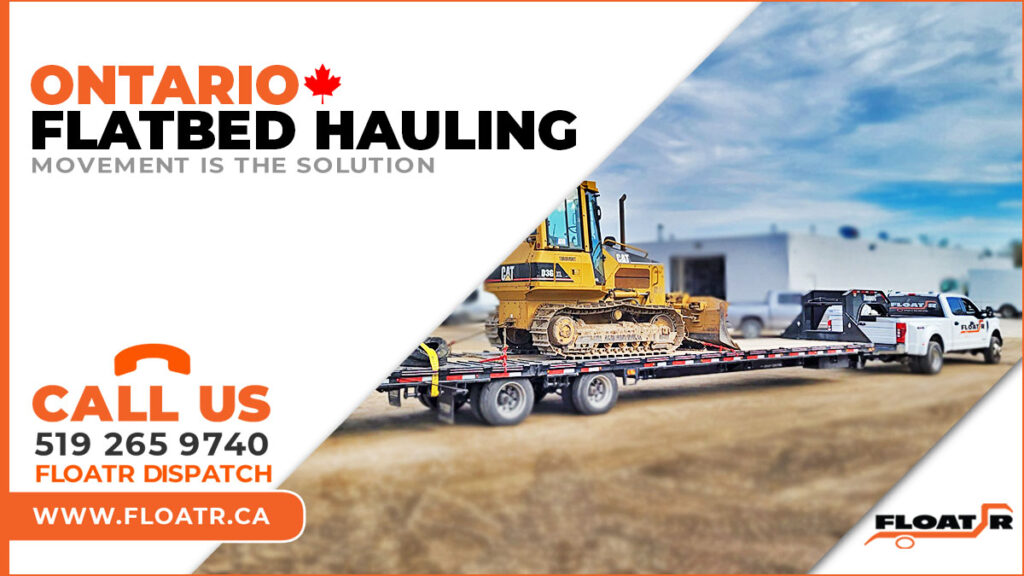 Feel free to complete the following form if you are looking for flatbed shipping
FLATBED SERVICES
In addition, just for everyone's interest, FLOATR INC trucks are available every day in the following locations: Kitchener, Cambridge, Waterloo, Stratford, Woodstock, London, Brantford, Fergus, Elora, Elmira, Hamilton, Burlington, Stoney Creek, Ancaster, Georgetown, Milton, Oakville, Orangeville, Palmerston, St. Jacobs, New Hamburg, Halton Hills, Listowel, Oakville, Newmarket, Collingwood, Aurora, Oshawa, Ajax, Pickering, Bolton, Peterborough, Orillia, Belleville, Kingston, Ottawa, Brockville, New Tecumseth, Owen Sound, Walkerton, Kincardine, Goderich, Grand Bend, Sarnia, Windsor, Chatham, Tillsonburg, Simcoe, Port Colborne, Welland, St. Catharines, Grimsby, Niagara Falls, Caledonia, Hagersville, Paris, Ayr, Waterdown, Millbank, Wallenstein.