In the world of logistics and transportation, some cargo simply won't fit within the confines of a standard trailer. This is where the expertise and capabilities of flatbed trucking companies like FLOATR INC. come into play. We specialize in handling the unique challenges of transporting flatbed oversize loads, and in this blog post, we'll explore the complexities of this crucial service and how FLOATR INC. rises to the occasion.
Defining Flatbed Oversize Loads
Before diving into the intricacies, let's clarify what we mean by "flatbed oversize loads." These are shipments that exceed the standard dimensions and weight limits set by transportation authorities. Typically, oversize loads include cargo that is wider, taller, longer, or heavier than what can be safely transported using conventional trailers.
The Challenges of Oversize Load Transportation
Securing the necessary permits and complying with diverse state and federal regulations is often the first hurdle in transporting flatbed oversized loads. Each jurisdiction may have its own set of rules governing oversize loads, including restrictions on dimensions, weight, and permitted travel times. Navigating this regulatory maze requires expertise and meticulous attention to detail.
Handling flatbed oversize loads is no small feat and presents several unique challenges:
Regulatory Compliance: Navigating the web of permitting and regulatory requirements at the state and federal levels can be a daunting task. FLOATR INC.'s team of experts ensures that all necessary permits are secured and regulations are adhered to.

Safety Considerations: Ensuring the safety of the cargo, the public, and our drivers is paramount. Proper load securement, signaling, and equipment maintenance are key to preventing accidents.

Route Planning: Oversize loads require meticulous route planning to avoid low bridges, tight turns, and other obstacles. FLOATR INC. conducts thorough route surveys and collaborates with transportation authorities to ensure safe passage.

Specialized Equipment: Transporting oversize cargo demands specialized flatbed trailers equipped with extendable decks, additional axles, and other custom features tailored to the load.
Applications Across Industries
Flatbed oversized loads are a crucial component in various industries. They serve construction by delivering heavy machinery and steel structures to job sites, aid in renewable energy by transporting towering wind turbine components, and support manufacturing with the delivery of oversized machinery.
Flatbed oversize loads serve a diverse range of industries:
Construction: Oversized equipment such as cranes, excavators, and steel beams are essential for construction projects, and we ensure they reach the job site safely and efficiently.

Renewable Energy: Wind turbine components, with their massive blades and towering tower sections, rely on us for seamless transportation in the renewable energy sector.

Manufacturing: Oversized machinery used in manufacturing processes, including presses and injection molding machines, depends on our expertise for timely deliveries.

Aerospace: Aircraft components like wings and fuselages are a common part of our oversized load portfolio, requiring careful handling and transport.
Ensuring the safety of the cargo, the public, and the transportation team is a non-negotiable priority. Proper load securement is essential to prevent shifting or dislodging during transit. This involves the use of heavy-duty chains, binders, straps, and custom securing techniques to keep the oversized load firmly in place.
Precision Route Planning
Flatbed oversized loads demand precision route planning. Roads with low bridges, narrow turns, or weight limits can pose significant challenges. Detailed route surveys are conducted to identify potential obstacles, and alternative routes or modifications are planned as needed. Close coordination with transportation authorities is essential to guarantee safe passage.
Specialized Equipment
Transporting oversized cargo requires specialized flatbed trailers with features such as extendable decks, additional axles for weight distribution, and other custom modifications to accommodate the unique dimensions of the load. These trailers are designed to provide stability and security throughout the journey.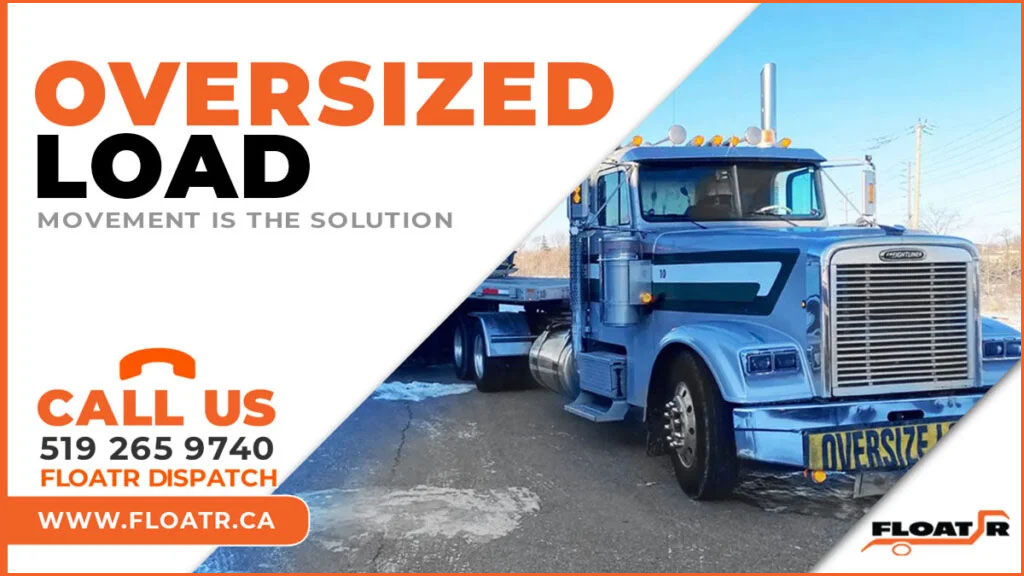 In conclusion, the world of flatbed oversized loads is a testament to the transportation industry's adaptability and expertise. The logistics of moving these exceptional cargoes require a blend of regulatory knowledge, safety measures, route planning, and specialized equipment. It's a world where precision and professionalism reign supreme, ensuring that even the largest and most challenging cargo reaches its destination safely and efficiently.
Ready to conquer the challenge of transporting your oversized cargo safely and efficiently? Contact FLOATR INC. today and experience the expertise that sets us apart in handling flatbed oversized loads. Your exceptional cargo deserves an exceptional partner – trust FLOATR INC. to deliver with precision and care."
Feel free to complete the following form if you are looking for flatbed shipping
FLATBED SERVICES
In addition, just for everyone's interest, FLOATR INC trucks are available every day in the following locations: Kitchener, Cambridge, Waterloo, Stratford, Woodstock, London, Brantford, Fergus, Elora, Elmira, Hamilton, Burlington, Stoney Creek, Ancaster, Georgetown, Milton, Oakville, Orangeville, Palmerston, St. Jacobs, New Hamburg, Halton Hills, Listowel, Oakville, Newmarket, Collingwood, Aurora, Oshawa, Ajax, Pickering, Bolton, Peterborough, Orillia, Belleville, Kingston, Ottawa, Brockville, New Tecumseth, Owen Sound, Walkerton, Kincardine, Goderich, Grand Bend, Sarnia, Windsor, Chatham, Tillsonburg, Simcoe, Port Colborne, Welland, St. Catharines, Grimsby, Niagara Falls, Caledonia, Hagersville, Paris, Ayr, Waterdown, Millbank, Wallenstein.