Welcome to the world of Expedite Transport, where efficiency meets speed, and your cargo delivery needs are met with precision. In today's fast-paced business environment, the demand for quick and reliable transportation solutions has never been higher. Whether you're moving oversized machinery, construction materials, or time-sensitive goods, expedite flatbed transport is the answer to your logistical challenges. This specialized service not only accelerates your cargo's journey but also ensures its safety and integrity throughout. In this comprehensive guide, we will take you on a journey through the benefits, applications, and essential insights into the world of expedite flatbed transport, showing you why it's the ultimate choice for businesses that value prompt and hassle-free deliveries.
What Is Expedite Flatbed Transport?
To get started, let's break down expedite flatbed transport. It's a logistics solution designed to make your deliveries faster, especially for oversized or urgent cargo. Now, let's dig into the different aspects that make expedite flatbed transport stand out.
Advantages of Expedite Transport
First and foremost, expedite transport is all about speed. This sets it apart from regular transportation methods. With dedicated drivers and a streamlined logistics process, it significantly reduces transit times, ensuring your cargo reaches its destination quickly.
Moreover, expedited flatbed transport is incredibly versatile. Whether you're moving construction equipment, industrial machinery, or oversized materials, it can handle it all with ease. This versatility not only improves efficiency but also cuts down the need for multiple transportation methods, making your supply chain smoother.
Reduced handling is another big plus. Unlike traditional shipping methods that involve lots of transfers and handling, expedite transport minimizes these steps. This, in turn, lowers the risk of damage and ensures your goods arrive in excellent condition.
Surprisingly, expedited transport can often be more cost-effective than other options. By cutting out the need for warehousing or additional handling, you can save money on storage and labor costs. This cost-effectiveness adds to the appeal of this transportation method.
Now that we've looked at its advantages, let's see where expedited flatbed transport is used. Its versatility makes it essential in various industries.
The construction industry heavily relies on expedited flatbed transport to move heavy equipment, building materials, and oversized loads to construction sites quickly.
Likewise, manufacturers benefit greatly from expedited flatbed transport. It's perfect for transporting machinery, raw materials, and finished products, ensuring smooth production processes.
The oil and gas industry also depends on expedited flatbed transport for moving drilling equipment, pipes, and other crucial components to remote locations, all while maintaining speed and safety.
Lastly, expedited flatbed transport excels in emergency shipments. When unexpected situations arise and urgent deliveries are needed, this method provides a rapid solution for delivering critical goods. Its ability to respond quickly to unforeseen circumstances is invaluable.
Why Choose Expedite Flatbed Transport?
In conclusion, let's answer the crucial question: Why should businesses opt for expedite flatbed transport? In today's fast-paced business world, where every moment counts, this method offers a strategic advantage. It helps companies streamline their supply chains and meet demanding delivery schedules.
Its speed, versatility, and cost-effectiveness make it the go-to choice for businesses aiming to stay competitive. Transitioning to expedite flatbed transport isn't just a logistical shift; it's a smart move that boosts efficiency and ensures your cargo arrives on time, every time.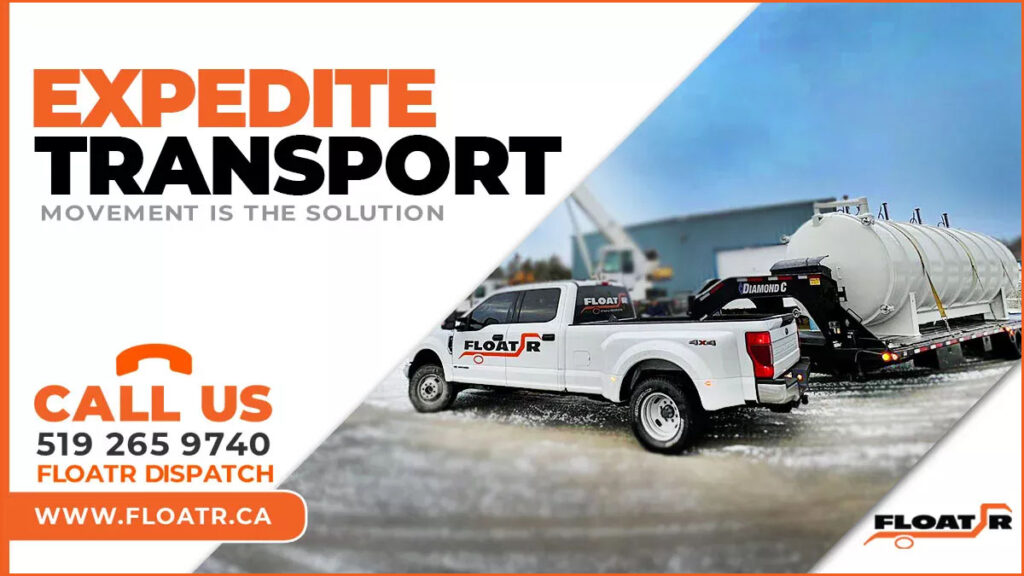 In this blog post, we've explored expedite flatbed transport in detail. It's more than just a logistics service; it's a tool that can help modern businesses expedite their supply chains and meet tight delivery schedules. Whether you're in construction, manufacturing, or any industry with unique transportation needs, consider exploring the benefits of expedited transport for your next shipment. It's the express lane for efficient and hassle-free cargo delivery.
Unlock the Fast Lane to Success with FLOATR INC's Expedite Flatbed Transport! 🚀
Ready to expedite your cargo deliveries and elevate your logistics game? Look no further than FLOATR INC! Our Expedite Flatbed Transport services are designed to meet your tight deadlines and streamline your supply chain. Don't wait – click below to get a quote and experience the unmatched speed and efficiency of FLOATR INC today. Your express solution is just a click away!"
Feel free to complete the following form if you are looking for flatbed shipping
FLATBED SERVICES
In addition, just for everyone's interest, FLOATR INC trucks are available every day in the following locations: Kitchener, Cambridge, Waterloo, Stratford, Woodstock, London, Brantford, Fergus, Elora, Elmira, Hamilton, Burlington, Stoney Creek, Ancaster, Georgetown, Milton, Oakville, Orangeville, Palmerston, St. Jacobs, New Hamburg, Halton Hills, Listowel, Oakville, Newmarket, Collingwood, Aurora, Oshawa, Ajax, Pickering, Bolton, Peterborough, Orillia, Belleville, Kingston, Ottawa, Brockville, New Tecumseth, Owen Sound, Walkerton, Kincardine, Goderich, Grand Bend, Sarnia, Windsor, Chatham, Tillsonburg, Simcoe, Port Colborne, Welland, St. Catharines, Grimsby, Niagara Falls, Caledonia, Hagersville, Paris, Ayr, Waterdown, Millbank, Wallenstein.