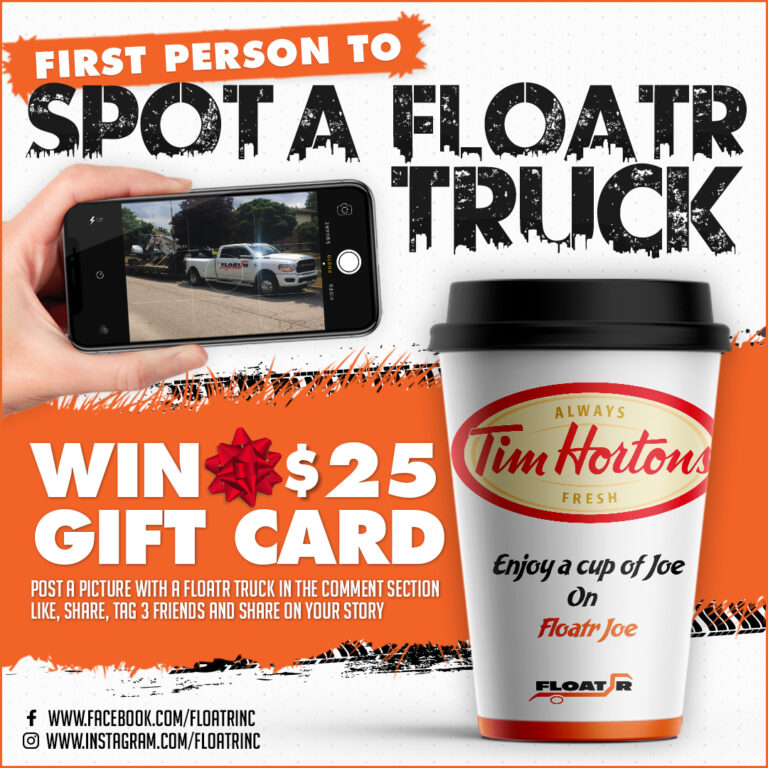 Spot a FLOATR Truck
Are you ready for an exciting adventure that not only showcases your sharp eyes but also rewards your keen observation skills? Welcome to "SPOT A FLOATR TRUCK," an extraordinary marketing campaign by FLOATR INC. that will put your perception to the test while giving you the chance to win fantastic prizes!
In this one-of-a-kind campaign, we invite you to embark on a journey where spotting our iconic FLOATR INC. trucks on the road is your passport to recognition and rewards. As we roll out with eye-catching truck decals, your mission is to SPOT, SNAP, and SHARE these magnificent trucks in action.
FLOATR INC started a monthly advertising campaign to promote our hot-shot flatbed transport services across social media platforms. Our aim is to increase the number of likes, friends and followers over the main social media platforms.
In order to win the monthly Tim Hortons $25 Gift Card, we encourage people to take a picture of our trucks and post it in our comment section. Also, you need to like, share, tag 3 friends, and share your story.
But that's not all. Visit our dedicated campaign website to track your entries, see the trucks you've spotted on an interactive map, and stay updated on the latest campaign news. With an engaging website, we've made participating even more exciting.
At FLOATR INC., we believe in the power of community, and this campaign is all about building one. As your fellow adventurers spot trucks and share their experiences, you'll witness a growing gallery of user-generated content that highlights the uniqueness of our campaign.
Join us as we embark on this thrilling journey of recognition and rewards. "SPOT A FLOATR TRUCK" is not just about spotting trucks; it's about spotting opportunities, making memories, and being part of an exciting community.
Stay tuned for more updates, including prize announcements, grand prize reveals, and winner celebrations. Let's embark on this adventure together, and let your spotting skills take you to new heights!
Are you ready to SPOT A FLOATR TRUCK? Let the adventure begin!